What is Forest Therapy?
Forest Therapy is a pathway to personal health and well-being and a method of reintroducing people to the forest and other natural environments. A Forest Therapy Guide facilitates safe, gentle walks and provides instructions—referred to as invitations—for sensory opening activities along the way. These walks follow a standard sequence. They begin with guided sensory awareness activities that establish contact with the present moment and place. Next is a series of twenty-minute invitations crafted to connect people more deeply with nature, often improvised in the moment and in partnership with the land. The walks end with a ceremony of sharing tea made from foraged local plants.
What is the history of Forest Therapy?
Forest Therapy, as currently practiced in America, was woven together in 2012 by Amos Clifford, Founder of ANFT (Association of Nature and Forest Therapy Guides). In Clifford's career as a psychotherapist, wilderness, and vision fast guide, he saw most people experienced noticeable benefits from spending extended time in nature. Wanting to bring as many people as possible into a meaningful relationship with the more-than-human world, he began hearing about the Japanese practice of Shinrin-yoku or "bathing in the forest atmosphere." After visiting with the leading researcher in Japan, Dr. Qing Li, and learning about his findings, Clifford was energized by the idea of cooperating with the health care system to connect people with nature. While the work draws influences from many cultures, it's designed to be culturally neutral. It doesn't prescribe, preach, or teach any set of ideas or philosophies.
What can you expect?
You can expect to sign a release form and be given guidance on Covid19 precautions. Walks will be limited to four to six people for social distancing purposes. Walks consist of an introduction and background information on the health benefits of the practice. Then a sensory opening experience leads to a series of 15 to 20 minute invitations to quietly explore nature. Lastly, participants come together to form a circle and share experiences.
Why do you need a guide?
Guided Forest Therapy helps participants build their capacity for confidence, ease, and mindfulness while in Nature. In our fast-paced lives, a Forest Therapy Guide, who is trained to work in partnership with the land, can help others to slow down enough to really observe nature with all their senses and return to the present moment, where they find the maximum benefits of Forest Bathing. This slowing down is key for supporting a healthy lifestyle and fostering a love of natural environments. Through this practice, we collectively contribute to the movement to reconnect people with nature for the sake of their own well-being as well as the well-being of the natural world. The Forest is the therapist; the guide opens the doors.
How long is a guided walk?
Most guided walks last about three hours. But arrangements can be made for shorter walks in group situations such as family groups or classes. The distance covered is seldom more than 300 yards in three hours on easy-to-navigate terrain.
What is best to wear?
Wear loose, comfortable clothing in which you won't mind kneeling or sitting on the ground. Since most walks are off-trail, long pants and closed-toed shoes are recommended for walking through the brush. A long-sleeved shirt and hat are helpful for sun protection and bugs. In cooler weather, you'll need more layers than normal because you won't be moving very much. Yet warm winter days can be lovely for walks which are weather dependent.
What do you need to bring?
A confirmation email will be sent to participants listing what to bring. Please bring a daypack with water, sunscreen, hat, a small teacup, and a snack for yourself at the end of the walk. Also bring a small folding stool or sit-upon for your comfort. Hand sanitizer will be provided.
What are the benefits of Nature Connection?
As the technology economy blossomed in the 1980s, so did the rates of stress-related illnesses such as auto-immune diseases and cancer. In searching for solutions in Japan, researchers wondered why people felt better when they spent a few hours in the forest. Since then, dozens of worldwide scientific research projects have proven the health benefits of this practice of spending quiet time in nature. In Japan, universities teach Shinrin-yoku, doctors prescribe it as preventive medicine, and hospitals use it for recovering patients.
Physiological Health Impacts:
These may include more energy, better sleep, enhanced immune function, lowered blood pressure, and slower heart rate.
Mental Health Impacts:
These may include increased focus, enhanced creativity, less stress, enhanced memory, and less anxiety.
Emotional Health Impacts: These may include feeling more relaxed, happier, more connected, more alive, and more grateful.
Reference Articles
Shinrin-Yoku (Forest Bathing) and Nature Therapy: A State-of-the-Art Review by Margaret M. Hansen *, Reo Jones, and Kirsten Tocchini https://www.mdpi.com/1660-4601/14/8/851/htm
Take two hours of pine forest and call me in the morning
https://www.outsideonline.com/1870381/take-two-hours-pine-forest-and-call-me-morning
Getting back to nature: how forest bathing can make us feel better
https://www.theguardian.com/environment/2019/jun/08/forest-bathing-japanese-practice-in-west-wellbeing
https://lifebeyondnumbers.com/dr-qing-li-forest-bathing-why-you-need
About Deborah Goslin, Your ANFT Guide
Deborah Goslin is a Certified Forest Therapy Guide with ANFT (Association of Nature and Forest Therapy Guides and Programs). She has been fascinated by nature since she was a child, nurtured by her rural home in northern New York's Adirondack Mountains. She studied Ecology and Environment at Paul Smith's College and has been fortunate to have worked in Montana's Bitterroot National Forest and Lee Metcalf National Wildlife Refuge for most of her career. Deborah sees Forest Therapy Guiding as a natural next step in her love of natural places and the more-than-human world. She offers these immersive experiences to provide opportunities for people to slow down and relax for personal wellness, to notice the other beings we share our beautiful planet with, and to take in and benefit from the restorative qualities of nature.
Contact Information: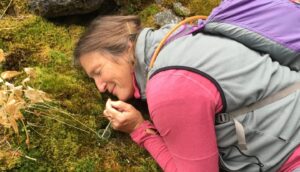 Deborah Goslin
(406) 214-7879
NatureSpeake LLC
naturespeake@gmail.com
ANFT: https://www.natureandforesttherapy.earth/
Instagram: naturespeake